[ad_1]

Top story: Peril of 'Trump's protectionism' to world economy
Hello, I'm Warren Murray and in today's briefing we will not be showcasing Apple's latest products. Oh go on then have a look if you must.
Gordon Brown has warned of another financial crisis if world leaders do not work together in acting on the lessons of 2008. "Trump's protectionism is the biggest barrier to building international cooperation … we are in a leaderless world," said the former prime minister, in a Guardian interview at his home in Scotland. "Countries have retreated into nationalist silos and that has brought us protectionism and populism … It is very difficult to say what will trigger it [the next crisis] but we are at the latter end of the economic cycle, where people take greater risks."
Brown admitted that Labour should have been tougher on the City in the boom years leading up to the crisis. "Yes, we did not know what was going on in some of the institutions, some of it illegal, and which was being covered up … [But] I was being criticised for being too tough in terms of regulation and tax.
On cleaning up the financial sector, Brown said: "[Since 2008] the penalties for wrongdoing have not been increased sufficiently. The fear that bankers will be imprisoned for bad behaviour is not there. There has not been a strong enough message sent out that government won't rescue institutions that haven't put their houses in order."
---
Tussles in Brussels – Brexiter Tory ministers tried to pick fights within the European council in the run up to the referendum to bolster their case for leaving the EU, it has been suggested. "They wanted to be systematically unsatisfied with everything," an insider has said. A Guardian analysis shows where Britain voted no, abstained or used its opt-out power leading up to the June 2016 referendum. The impact a no-deal Brexit could have on licences, passports and phone bills will be detailed this morning as ministers release more papers about the risks of crashing out of the EU. Dominic Raab, the Brexit secretary, said laying out the the worst-case scenarios was "sensible and pragmatic" but added: "Getting a deal with the EU is still by far and away the most likely outcome."
---
Alcohol problems go untreated – One in seven out of 605,688 people identified as alcoholics in England received treatment in 2016-17, according to Labour's Jonathan Ashworth. The MP, who has spoken about growing up with an alcoholic father, will today commit a future Labour government to improving the response to substance misuse. The British Medical Association says demand for NHS care could be cut by as much as 40% if ministers introduced minimum unit pricing of alcohol and took "robust action" on other problems such as obesity, the doctors' union says.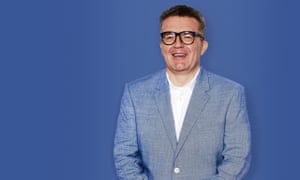 On that note, Tom Watson, the Labour deputy leader, has told of rolling back his type-2 diabetes diagnosis by transforming his diet to exclude sugar and processed foods, as well as exercising. He questions whether one-size-fits-all public advice on nutrition works – "I think we need to move to an era where GPs are trained to give bespoke advice" – and says food-labelling in Britain "is absolutely broken. I hate the fact that people are judged for being overweight [when] there is a whole load of hidden sugar in processed foods."
---
Google bias claims – The rightwing portal Breitbart and its fans have seized on a video of Google bosses' reaction to Donald Trump's 2016 election victory. "As an immigrant and a refugee, I certainly find this election deeply offensive and I know many of you do too," says founder Sergey Brin in the recording of an all-staff meeting. Conservatives immediately brandished statements like that as proof the search engine is biased to the left. But the views expressed in the video are more balanced than the Republican portrayal. "Diversity also means diversity of opinion and political persuasion," Google executive Eileen Naughton reminds the "all-hands" gathering. A Google statement said the company took "extraordinary care to be a trustworthy source of information for everyone, without regard to political viewpoint."
---
Rigging the postcode lottery – Wealthy parents are renting or buying second homes in catchments of sought-after schools to get their children in, according to a YouGov poll for the Sutton Trust. Respondents rarely admitted doing it themselves – but 16% of all parents said they knew families who had used a relative's address. Meanwhile the wealthy were much more likely than those less wealthy to know someone using a bought or rented second home as a front. Others suddenly found religion and started going to church to meet admissions criteria. If you have done these sorts of things yourself, or know of others who have, we would like to hear from you. The Sutton Trust founder, Peter Lampl, said: "Those with money, education and confidence are more able to give their children the best possible chance of succeeding … If we are to tackle social mobility it is key that these unequal opportunities are recognised and confronted."
---
Give pizza a chance – South Korea practises strict military conscription but 12 students have reportedly dodged their national service by downing five meals a day including pizza, burgers and protein shakes. The military found out about their plot to get so fat they failed the army physical and were sent to do civilian service instead. Their case has been referred to prosecutors and if found guilty they will be forced to complete military service. Two have already done alternative service but now might have to do a stint in the ranks as well.
Lunchtime read: Fourteen years watching the telly
"Fourteen and a half years, it's been, and because of the extremely high-pressured nature of the work, reviewing years are like dog years – worth seven," writes Sam Wollaston.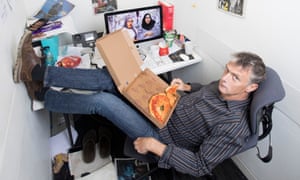 "So that's a century, in which I have produced about 2,500 reviews, seen five incarnations of the Doctor if you count Jodie Whittaker in the Christmas special, and 13 seasons of The Apprentice …" As our beloved TV reviewer passes the remote to the next regeneration, here is what he has learned.
Sport
One of rugby's most senior officials, Agustín Pichot, has warned that the entire future of the international game is under threat unless the sport takes urgent action within the next 12 months. Anthony Joshua insists he will emerge triumphant in heavyweight boxing's power struggle by stopping Alexander Povetkin next week – and then returning to Wembley next April to beat Deontay Wilder in a massive reunification fight.
In football, Gareth Southgate has expressed frustration about Phil Foden's lack of first-team involvement for Manchester City and warned England's senior players they cannot expect to keep their places if they are not involved more regularly for their club sides. Chelsea made a convincing start to their Women's Champions League campaign with a 5-0 win against SFK 2000 in the first leg of their last-32 tie in Sarajevo. And Trevor Bayliss has declined to offer Keaton Jennings any assurances over his place on England's winter tour to Sri Lanka following a lean second stab at Test cricket.
Business
The Trump administration has invited Chinese officials to last-ditch talks before potentially imposing tariffs of up to $200bn on imports, giving a lift to Asian shares this morning. The Chinese stock market plumbed a 31-month low yesterday but ticked slightly higher after the White House announcement. The FTSE 100 is set to open flat, while the pound is worth $1.305 and €1.121 this morning.
The papers
The Guardian splashes today with an exclusive interview with Gordon Brown, running under the headline: "World is 'sleepwalking towards new financial crisis'". The Mirror has fun with news of the Archbishop of Canterbury hitting out at Amazon for not paying enough tax, with: "Deliver us from evil". The Times was less impressed at Welby's speech at the TUC conference – "Tories blast Welby for 'parroting' Labour views".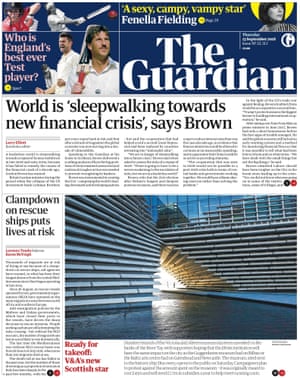 The Telegraph has a line we've heard before: "UK won't pay EU bill without a Brexit deal". The Express asks "How has our country come to this?" over reports that Jacob Rees-Mogg and his children were ambushed by protesters outside his home. More Conservative party news on the front page of the i with: "Tory plotters plan April coup against PM". The FT's lead is: "Oil heads towards 4-year high as hurricane heightens supply fears" and the Mail has news on a similar theme, asking : "How much can drivers take?" as prices at the pump rise for 10th week running. The Sun's splash is: "Quads for Gran, 50" with news that a 50-year-old grandmother is pregnant with quadruplets after IVF.
Sign up
The Guardian morning briefing is delivered to thousands of inboxes bright and early every weekday. If you are not already receiving it by email, make sure to subscribe.
For more news: www.theguardian.com
[ad_2]

Source link Google News