[ad_1]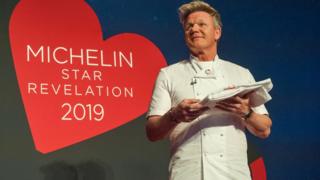 Michelin is probably best known as the company that bestows stars on restaurants to signify their excellence.
Gordon Ramsay, awarding the Michelin stars for UK & Ireland 2019, described the event last week as the "Oscars of the restaurant industry".
Receiving a star isn't only an industry accolade – it can also be a boost to the business.
The late Joël Robuchon, the world's most Michelin star-decorated chef, claimed the stars were financially transformative.
"With one Michelin star, you get about 20% more business. Two stars, you do about 40% more business, and with three stars, you'll do about 100% more business," he told Food & Wine magazine last year.
But according to the founders of Ellory in east London, their mark-up on receiving a first star was even higher.
"Business went up by over a third," says Ed Thaw, who received the award just 11 months after opening.
And yet, in a testament to how tough the restaurant industry can be, Ellory closed after only two and half years – despite having retained the star a year later.
The restaurant only turned a profit in three months – and those were "random" months.
Ed says it isn't enough just to be serving great food, the location is also key.
"[At Ellory], we were opposite a drug rehab centre and workman's cafe."
With business partner Jack Lewens, he has now set up Leroy in Shoreditch.
The trick, he says, is to stay true to what you enjoy rather than straining for recognition.
It's not about "getting a pinky finger out and explaining the food".
Perhaps backing up Ed's approach, Leroy received its own star at the 2019 awards.
'Don't change'
Gordon Ramsay, holder of three stars for his self-titled restaurant in Chelsea, gave out the 2019 awards at a closely choreographed ceremony in the BFI Imax in London – and with them, his top piece of advice.
"Don't change, don't start putting your prices up."
One first-time star recipient, Paul Foster, agrees.
Owner of Salt in Stratford-upon-Avon, Paul says he hopes the award will "get more customers through the door" – but that he "wouldn't change anything" about the restaurant.
Salt has unusual beginnings for a restaurant – it got off the ground thanks to a crowdfunding campaign on Kickstarter.
"I wanted the controlling share, as I think investors aren't always the best route," Paul explains.
And it worked. Having quit his job, he raised just over £100,000. Salt was duly set up.
Explaining that he simply "told the truth" about what he wanted to do, he says "the British public love the underdog in a story".
Fellow chef Tom Parker trained at Michelin-starred Northcote, before setting up shop close to home at The White Swan in Burnley. He also received a first star for 2019.
He is adamant that nothing will change about his restaurant after getting the award.
"We put our prices up from £28 to £32 for three courses last week, we can't put them up any more."
"If anything the star could kill the whole thing off," he laughs.
"People in Burnley might be like, 'They look down their noses at you there.'"
Star pressure
A few weeks before the awards, one restaurant in Wales took the unusual step of giving their star back.
Stephane Borie, Sarah Francis and Kathryn Francis of The Checkers in Powys said they were "putting family first".
It ended a seven-year streak for the restaurant, which first appeared in the guide in 2011.
The chief inspector
In a back room on the floor below the ceremony, Rebecca Burr is cooped up in a kind of cubicle, watching the proceedings on Facebook Live.
As Michelin UK & Ireland's editor – chief inspector, if you like – she keeps a low profile.
She says Michelin employs about 130 inspectors around the world, who go out on the road acting on reviews, reader tips and word-of-mouth recommendations.
They visit a tipped restaurant for lunch and dinner and at least one further meal – to check consistency.
Rebecca acknowledges how a Michelin star "puts [restaurants] on a stage".
"[But] we're not sprinkling Michelin fairy dust on places. The mission is to point people in the direction of good places to eat."
Perhaps in illustration of that, no-one received a third star at the 2019 ceremony.
Then there's the business of taking stars away.
"It's not a nice part of the work," she says, acknowledging such a decision can hurt businesses as well as the people employed and supported by them.
"It's a major responsibility I take very seriously."
Tyre company
Michelin started out as a tyre company. Indeed, the Michelin Man was seen mingling among attendees and plates of ornate hors d'oeuvres after the ceremony.
The company was set up in Clermont-Ferrand, France in 1889, by brothers Andre and Edouard Michelin, who wanted a piece of the burgeoning tyre market.
The guide was initially given out for free, to encourage motorists to take to the road, and buy more tyres.
Little did Andre and Edouard know it would become central not only to their business, but to that of many of the best restaurants in the world.
[ad_2]

Source link Google News