[ad_1]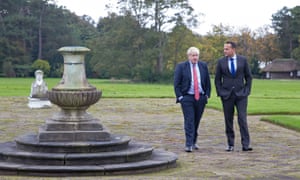 Good morning, and welcome to our rolling coverage of the world economy, the financial markets, the eurozone and business.
Shakespeare once wrote that "The miserable have no other medicine. But only hope." Investors like a good dose of hope too, and today they're knocking it back amid signs of progress in Brexit and the US-China trade talks.
Sterling is trading at a two-week high this morning, after talks between UK prime minister Boris Johnson and Irish Taoiseach Leo Varadkar went surprisingly well. Both men say they can see a "pathway" to a deal that would remove the danger of a disorderly Brexit.
In a joint communiqué the leaders said they held a "detailed and constructive discussion" and they both agreed "that a deal is in everyone's interest".
The UK is rumoured to have shifted its position on customs, a key sticking point in the negotiations. One source said the new proposal on customs involved Northern Ireland leaving the customs union but "following" the EU customs rules.
Brexit secretary Stephen Barclay is due to meet Michel Barnier, the EU's chief negotiator, this morning to discuss whether enough progress has made to justify "intensifying negotiations" ahead of the EU summit next week.
This drove sterling sharply higher, in its best day in over six months. But the pound is still below the $1.25 level, and more than 15% below its value before the 2016 EU referendum.
Investors are also hoping that America and China could hammer out a 'partial trade deal' today.
Chinese vice-premier Liu He will sit down with US trade representative Robert Lighthizer and treasury secretary Stephen Mnuchin for a second day of talks in Washington. Yesterday, Donald Trump lifted the markets by declaring that the talks were going 'very well'.
Trump also announced he'd meet with Liu later today — an indication that he expects progress, tweeting:



Big day of negotiations with China. They want to make a deal, but do I? I meet with the Vice Premier tomorrow at The White House.
This tease helped to lift the Dow Jones industrial average by 0.6%, closing 150 points higher at 26,496 last night. Asian stocks have rallied overnight too, and Europe is set for gains as well (although the pound's strength could hold the FTSE 100 back).
We'll be tracking all the action through the day…
The agenda
3pm BST: University of Michigan survey of US consumer sentiment
7.45pm BST: President Trump to meet Chinese vice-premier Liu He


[ad_2]

Source link Google News