[ad_1]

Kenya's president has vowed to relentlessly pursue anyone involved in the Nairobi hotel complex attack, as new details of the 16-hour siege emerged and investigators tried to trace 50 people who are still missing.
Twenty-one people have so far been confirmed dead, including 11 Kenyans, a Briton and an American, as well as five attackers. The figure is expected to rise.
In a televised address on Wednesday, Kenya's president, Uhuru Kenyatta, said: "We will seek out every person who was involved in the funding, planning and execution of this heinous act. We will pursue them relentlessly wherever they will be until they are held accountable."
The assault on the complex, which includes the luxury dusitD2 hotel, restaurants, a spa and the offices of several international companies, was the most high-profile by terrorists in Kenya since 67 people were killed in the Westgate mall attack in Nairobi in 2013.
Al-Shabaab, the Somalia-based militant Islamist organisation responsible for the attack five years ago, said it also carried out the assault on Tuesday.
The head of Kenya's police service, Joseph Boinnet, said five gunmen took part in the assault, including a suicide bomber who died in the first few minutes when he detonated his device in the hotel's foyer. Boinnet said security forces killed two of the gunmen on Tuesday night and that the two others died on Wednesday morning.
A heavily armed member of the British SAS who was reportedly on a training mission with Kenyan special forces was pictured helping to evacuate people during the attack.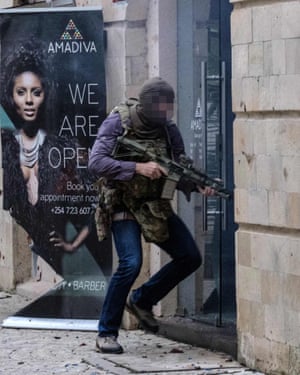 Western and international security officials have told the Guardian they warned Kenyan counterparts over Christmas and New Year about the possibility of high-profile attacks by al-Shabaab, which is an affiliate of al-Qaida.
Survivors of the attack described chaos, fear and a long wait for help. Patrick Viera Nganga, 38, spent more than 12 hours hiding under a table before being rescued on Wednesday morning.
"I had just had lunch with friends and went to the bathroom when the explosion occurred at the entrance. Just two minutes later shooting started. I ran to the lobby and hid under a big table … Two of the attackers entered and shot two persons there. One was firing continuously every direction. His phone rang and he answered, saying something I didn't understand," Nganga said. "I did not move. I played dead and was prepared to die. I stopped thinking about life. Night fell and I started praying. About 4am this morning, I heard police voices calling survivors to come out."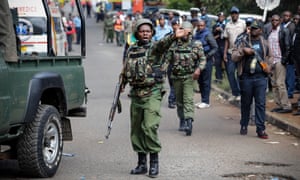 Robert Kamau, 41, was waiting for a job interview with a local company. He said: "The first I heard was a big boom … Ten minutes later an employee at the hotel came running and told us it was terrorist attack. Everybody ran for shelter. I saw a hotel guard who was trying to help an injured woman and we all ran to the emergency exit, but when I looked along the corridor, there was one attacker, a young, light-skinned guy with an AK47 rifle. He spotted us and began shooting."
Kamau, who was led out of the complex by police on Wednesday morning, added: "I thank god for being alive today. I thank those who rescued me as well."
A woman rescued from the hair salon she managed also survived the Westgate attack. "I was working when the attackers stormed in. It was not easy, just like today. All I can say is that I thank God," Tracy Wanjiru told Nairobi News.
Relatives of the dead and missing gathered at the nearby Chiromo mortuary.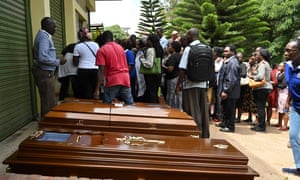 The family of a missing 35-year-old man collapsed upon hearing that a body had arrived with his identification papers. "He is gone, he is gone," the father repeated into his phone as his mother wrapped a shawl around herself and wept.
Another family arrived, demanding to know whether their relative was there, but were told that only police had access. As they argued, an older couple arrived in silence, bringing a freshly pressed suit to dress their dead son.
Sylvia, 30, was searching for her boyfriend, who had recently arrived from Australia and booked into the dusitD2 hotel. She had identified his clothes at the mortuary, but was not allowed to view his body. "We spoke on the phone just before the attack and as we were still on the line, the explosion occurred, followed by gunfire. I have been looking for him since then," she said.
Sitting nearby were relatives and friends of Abdalla Dahir and Feisal Ahmed, two development professionals working on aid projects in Somalia who were having lunch together at a restaurant in the grounds of the hotel when the attack began.
Mohamed Abdillatif, a friend and colleague of Ahmed, described the pair as inseparable. "He [Ahmed] was an outgoing, funny guy, charismatic. He was loved by everybody."
Mohamud Yasin, a relative, said he did not know why people claiming to be Muslims were killing other Muslims. "This is nothing to do with Islam. It is terrorism, and terror has no religion. Terrorism does not have race, nor do they have belief. Islam is peace and a Muslim is he who saves others," he said.
Kenyatta sought to reassure Kenyans and foreign visitors that the country was safe. Tourism is a big industry in the country and many western businesses are based there.
Security has been considerably improved since the Westgate attack. But experts said al-Shabaab is adept at carrying out attacks after long periods when its commanders feel security services have become complacent.
[ad_2]

Source link Google News