[ad_1]

Posted on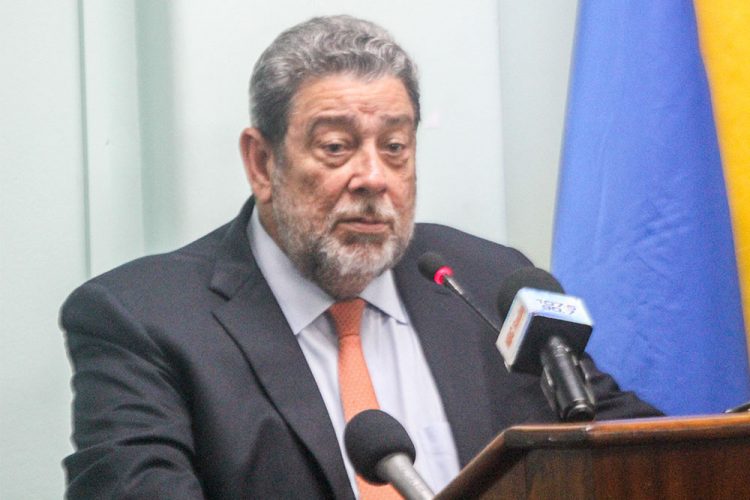 THE EUROPEAN UNION (EU) has been accused of bullying small island and Caribbean states who are on a quest to build a viable, clean and well regulated international financial sector.
This declaration came from Prime Minister Dr Ralph Gonsalves yesterday in the House of Assembly as he made his contribution to the debate of the International Business Companies (Amendment and Consolidated) (Amendment) Act of 2018.
This Act, as well as the International Trusts (Amendment) Act of 2018, went through all its stages and was passed in Parliament yesterday.
The amendment of these Acts was the focus of yesterday's sitting of Parliament in an effort to comply with obligations made in 2017 regarding the structure of international business companies and international trusts so as to meet EU and Organisation for Economic Cooperation and Development (OECD) regulations regarding the sectors.
"The European Union has bullied us small states into repeated submission by compelling and coercing small states through unseemly threats. The unwarranted bullying by the European Union has had two principal objectives: first, to coerce these small states to enforce or facilitate the enforcing of the tax regimes of the European Union member states and secondly, to neuter if not to completely subvert, undermine, to kill off completely, the quest of any or all of these small states to establish a viable and well regulated international financial services sector," Gonsalves said.
The Prime Minister described the EU as being hypocritical and pandering to its own self interest by proclaiming that the international financial services sector of small states constitute harmful tax regimes to the international organization.
He further said that it was "unacceptable, unconscionable and in [his] view, illegal extraterritorial bullying" because the EU was doing things and enforcing laws outside its boundaries.
"So instead of in the old days, using arms and espionage to get its imperial way, some in the European Union appear to be employing – the only description I can find for them is to say that they're employing hired ruffians…to enforce its policy of bullying," he said.
Gonsalves said that this country and the EU can be considered as friends, however, when friends go out of bounds, it is important to call it as it is.
The Prime Minister made reference to a specific decision made in the European Parliament and the European Council in 2017 as it relates to the European Fund for Sustainable Development.
And he made a link between countries that have access to those funds and the EU list of non-cooperative jurisdictions.
"So not only, you're not gonna have the Offshore Sector, but they are tying it to where poor countries, small countries, can access sustainable development monies," Gonsalves said.
"The United Nations in September 2015, we all adopted 17 sustainable development goals and one of those goals is that the developed countries have an obligation to assist in funding sustainable development; part and parcel of what we agree on at the United Nations but yet, it's being tied to extraterritorial arbitrariness on the part of the European Union in relation to declarations of non cooperative jurisdiction on the matter of taxation."
The Prime Minister said that countries have the choice of either surrendering to the EU's bullying tactics or to creatively resist through compromise and accommodation.
Gonsalves said that CARICOM and other small states have unfortunately not been able to respond "coherently or in a coordinated manner". He added that it was not too late for a coordinated and creative resistance on issues of interest to the small islands.
"Europe must not be allowed any further to get away with this extraterritorial bullying imperialism," he said. "We are not surrendering; we will compromise, we will accommodate and we will resist creatively – not just on this issue in taking a step backward, in taking two forwards
but also on all other issues, where our interests are grounded with other people, small states and others across the world."
The amendments of the two bills were moved by the finance minister, Camillo Gonsalves, who described the situation as a "European imposition on local legislation".
The Finance Minister, in his opening statement, said that harmful tax practices has been an issue of importance since the 1990s and its importance had increased over the years to the extent of tax standards shaping legislative framework of international and financial services in the region.
Camillo Gonsalves also said that several entities, including the OECD, the USA and the EU "all sought to apply international tax criteria extraterritorially from their jurisdictions, onto our jurisdictions, no matter the size of the jurisdiction or jurisdictional context."
Opposition Leader and member for the Northern Grenadines Dr Godwin Friday, the Opposition member for Central Kingstown St Clair Leacock and Opposition Senator Kay Bacchus-Baptiste also made contributions to the debate.
Bacchus-Baptiste, in her brief contribution agreed with the Prime Minister that bullying tactics were being used on the part of the EU.
And she urged that countries should go a step further in challenging the decision on a larger, international scale.
"I also feel that what the European Union is doing is illegal and I do not think that creative resistance by just saying so is enough. I think that we should go further. I think that we should challenge it in the international Courts of Justice because you (the EU) are using your power to enforce your view and I do agree, it is ruling extraterritorially," she said.
The senator expressed her belief that CARICOM should have a more united voice on the issue, rather than having each country acting in its own respective interests.
Bacchus-Baptiste added that the self-centred nature within CARICOM was part of what was "defeating us" in regard to the particular issue.
"We need to not just say CARICOM has not really done anything…we need to call on all of CARICOM to act together in the interest of CARICOM. So far, on this issue, we have been acting too individually, too selfish, too self-centred and if it continues like this, the industry will die."
After less than 20 minutes of debate, the International Trusts (Amendment) Act of 2018 was also passed at yesterday's sitting.
Other countries have gone to Parliament over the last few weeks to amend similar bills in order to meet the December 31 deadline set by the EU.
[ad_2]

Source link Google News