[ad_1]


America's Cup World Series: Day 4 Course and Forecast
by Richard Gladwell Sail-World NZ 19 Dec 14:35 PST
20 December 2020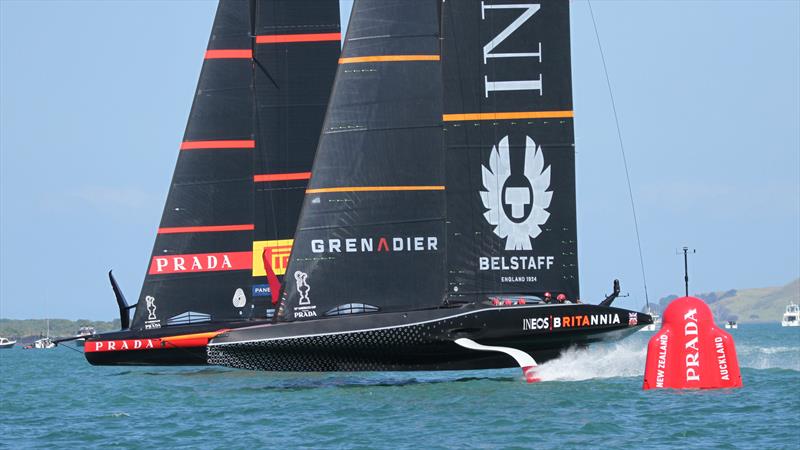 Start – race 1 – INEOS Team UK and Luna Rossa – America's Cup World Series – Day 3 – Waitemata Harbour – December 19, 2020 – 36th Americas Cup presented by Prada © Richard Gladwell / Sail-World.com

Regatta Director Iain Murray has advised that the course today is likely to be Course A, and the northern of the two locations for Course A

That means that the start will be laid off Castor Bay reef and the course will extend towards Tiritiri Matangi.

Spectator fleet is asked to stay well back – marshals will be into the course early to get the crowd into position.

Shore based viewing is not good for this location. The normal vantage point of Kennedy Park has been heavily planted along its edge and public visbility has been blocked. There is a stairway down the cliff to Back Beach, but the stairway is not designed as a vantage point.

Campbells Bay is a good low-down position or go to Campbells Bay Primary Schools which has a commanding view of the course.

The wind is light seabreeze at present, with a stronger seabreeze of just 5-7kts forecast by Predictwind.

However a seabreeze stronger than the forecast is settling in over the race area.

First race start is at 3.12pm with Emirates Team New Zealand against INEOS Team UK

The second start is Luna Rossa Prada Pirelli against American Magic.

The third start will be Final of the Xmas Cup between the winners of the first two races.

The fourth and final start will be between the two losing teams from the first two races.

For a live commentary tune into Peter Montgomery and friends on Gold AM. You can listen directly off the website, or by selecting Gold AM on the iHeart Radio app Gold AM (on iHeart Radio) or 1332 on a regular radio. A portable radio is highly recommended so you get a live commentary from the worlds leading yacht racing commentator, with access to all the various digital feeds, and all the America's Cup experts in PJ's extensive contact book.

Hear input from the likes of six times America's Cup winner Murray Jones, five times America's Cup winner Brad Butterworth and many more most of whom are on the water watching the action – so you can get their expert perspective. In the studio PJ has some outstanding co-commentators, and the show is attracting a world wide audience of sailing fans keen to hear a commentary that is pitched at them. The commentary is in real-time and with no commercial breaks during racing.

Sail-World is on the water, and in the race course on a photo boat – and even from that privileged position this commentary is essential listening because of the inputs from guest commentators and the access to various video feeds not available to the public plus Virtual Eye

Can't recommend this commentary highly enough.




[ad_2]

Source link Google News