[ad_1]

Here is more detail on what Shami Chakrabarti, the shadow attorney general, told the Today programme earlier about Labour's stance on when it would and would not back an early general election. There has been some confusion over this because at one point yesterday Jeremy Corbyn said the party would back one under any circumstances. Then, later in the day, first the shadow Brexit minister Jenny Chapman (here), and then the shadow Northern Ireland secretary Tony Lloyd (here), said support for an early general election was conditional.
Labour's stance is crucial because, although Number 10 is saying that Boris Johnson will go for an election on 14 October if he loses the vote tonight, under the Fixed-term Parliaments Act an early election cannot happen without Labour's support.
Chakrabarti tried to clear things up on the Today programme this morning. Some shadow ministers "freelance" when they give media interviews (ie, they push their own views as much as the official party line), but Chakrabarti had good relations with Corbyn's office and she is a reliable guide to the official "line". This is what she said about when Labour would support an early election.



So to clear it up, it's about sequencing …

What we need to ensure is that we get this legislation locked down. And that's quite hard, because remember, we've got ministers who say that they'll ignore legislation. So that's another thing to consider. We've got to get a locked-in guarantee that Britain would not crash out of the EU in an election campaign period.

We've also got to try as best as possible to ensure that it wouldn't be possible for the sitting, squatting prime minister in this period to set the general election and then change the date.
Chakrabarti said that Corbyn would be meeting other opposition leaders in parliament this morning to discuss this matter further. When pressed on whether she was saying that the election would have to take place after 31 October for Labour to support it (which was what Tony Lloyd implied last night), she replied:



We certainly need to make sure that the Boris Johnson can't go in for the kind of shenanigans he's been going in for with his chums last week, where the date is perhaps moved so that you could crush out by default during this period of a campaign.
Chakrabarti also said that Labour's priority at the moment was preventing a no-deal Brexit. But she also said that beyond that the party wanted an election because "we live and breathe for a general".
What does this all mean? Chakrabarti seems to be setting up to three conditions.
1) The Benn bill, designed to prevent a no-deal Brexit on 31 October, would have to pass. That is what getting the legislation "locked down" implies. But there is no chance of that bill becoming law before Wednesday, when Johnson wants to hold a vote on an early election if he loses tonight.
2) Ministers would have to promise to obey the bill. As Michael Gove, the Cabinet Office minister, revealed in an interview on Sunday, at the moment they are not giving those assurances. And in in his statement outside Number 10 yesterday, Johnson said he would never ask the EU to delay Brexit – implying that he would not be bound by the law if it passed and if, under its terms, it became obligatory to seek an article 50 extension.
3) Ministers would have to give an assurance that the date of the election would not change after MPs voted for one. Tony Lloyd implied last night that it would be best for Labour to wait until an article 50 extension had been secured, and 31 October had passed without a no-deal Brexit, before allowing an election. An alternative option might be to hold an election before 31 October, knowing that if Labour won, Corbyn could then request an article 50 extension (or, in extremis, revoke article 50 – although he has never said he would do that). But yesterday there were suggestions that Johnson could agree to an election on 14 October, and then change the date once parliaments was dissolved to ensure it happened after a no-deal on 31 October.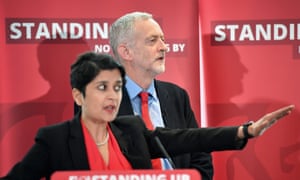 [ad_2]

Source link Google News