[ad_1]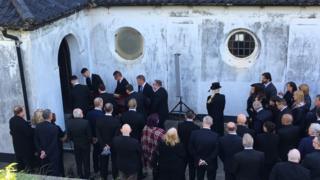 The cream of the Welsh boxing world came together in a small town in the south Wales valleys for Enzo Calzaghe's funeral.
Enzo, who arrived in Wales in the early 1970s after emigrating from Sardinia, died on 17 September, aged 69.
A former musician turned boxing trainer, he coached his son Joe to a 46-fight unbeaten career.
Nathan Cleverly, two-time world champion, was among the mourners in Newbridge. He said Enzo was "a genius".
On the side of the hearse which pulled up to Our Lady of Peace Parish Church were the words 'Dad' and 'Nonno', which means Grandpa in Enzo's native Italian.
Despite having no experience as a trainer before coaching his son, Enzo helped Joe become a world champion in two weight divisions.
Enzo also led Gavin Rees and Enzo Maccarinelli to world titles.
Operating out of a tiny gym in Newbridge, he taught a host of boxers who all fought using his fast, relentless combination style of boxing.
So many turned up to pay their respects at the funeral that they were forced to stand outside the church and listen to the service on speakers.
Former WBO, European and British cruiserweight champion Nathan Cleverly, who was among the mourners inside the church, said:
"Enzo was an amazing, amazing man. He taught me so much inside and outside the ring. He prepared me for life, not just boxing.
"He was hard-working, a go-getter and driven. He had a vision and he achieved what he set out to. He took his son to be a Hall of Fame fighter and he was a Hall of Fame trainer.
"He loved music and the way he brought that to his style of boxing. He brought the music into the ring with his rhythm, patterns and combinations.
"That was his unique style that helped bring so much success. I owe him such a great debt.
"His partnership with his son was incredible, They took it right the way through and came out the other side. Joe's success is testimony to both of them.
"Today is a sad day but it's also important we also celebrate Enzo's life. He was a massive character and lived life to the full. He lived his dream."
Also in attendance were former British and commonwealth welterweight champion Bradley Pryce, who described Enzo as a "wonderful character"
Former boxer now trainer Gary Lockett. Fellow trainer Tony Borg and boxing pundit Steve Bunce also came to Newbridge to pay their respects.
The first song played inside the church was 1960s hit The House of the Rising Sun by The Animals, a nod to Enzo's love of music.
Famous hymn Guide Me O Though Great Redeemer was sung, and as Enzo's coffin was taken out the Queen Song Who Wants to Live Forever was played.
Former world, European and British champion Enzo Maccarinelli said afterwards: "It was a fitting service for a great man. He was the loudest littlest man I've ever known and the loudest man I've ever tolerated. But I loved him.
"He had that knack of getting an extra 10% out of you. For a short man we were all terrified of him.
"He was a different type of trainer. He wouldn't have of all the sports science stuff, it was just hard graft and work, work, work. That wasn't everyone's cup of tea but it certainly worked.
"He lit up any room he walked into and we will all miss him."
[ad_2]

Source link Google News